Saturday Walk: Blackstone Edge
Organiser:
Brenda Turnbull
The area and details of the meet
(log in to member's area for restricted information such as mobile numbers)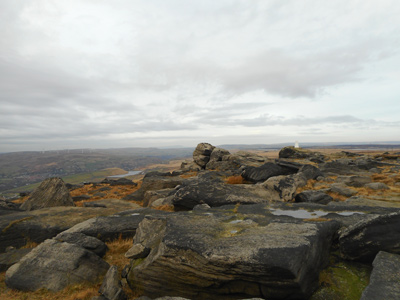 Blackstone Edge is an atmospheric and mysterious ridge of gritstone in the Pennines, high above the Manchester area. The plan is to go up from Hollingworth Lake, a pleasant place with a good café, and then along the rocky Edge south from the old cross and Roman packhorse road. We then follow the Pennine Way over the M62 and then turn south along a grassy ridge back down to the cars.
Start: Hollingworth Lake Visitor Centre Postcode OL15 0AZ, Grid Ref: SD 940 152 Meet 10am for a 10:15am start
Distance 9.5 miles depending on the route/weather
Height Gain: 1,200 feet (365m)
Car Parking: Hollingworth Lake Visitor Centre 4-6 hours £3 over 6 hours £6 Card or cash
OS Maps: Explorer OL21 or Landranger 109 (Manchester)
The walk begins at Hollingworth Lake Visitor Centre where you will find an ample car park, toilets and refreshments. (Opens at 10am - 3:30pm)
The walk will take us up to Blackstone Edge passing the Aiggin Stone, considered to be a medieval guide stone for travellers. After the summit of Blackstome Edge we can follow the Pennine Way towards the M62, which is the longer route which takes us over a concrete bridge high above the carriageway, to later walk under the M62 viaduct on route back to the Lake.
There are a couple of pubs near by if anyone would like a drink or food after the walk. The Wine Press is just near the Car Park and has seating outside (not sure if they would be happy with middy boots inside), or a little walk down the road is the The Beach (Greene King).
Please let me know if you are coming and whether you would like food and/or a drink afterwards.
Brenda