Photography: Geminids Meteor Shower
The area and details of the meet
(log in to member's area for restricted information such as mobile numbers)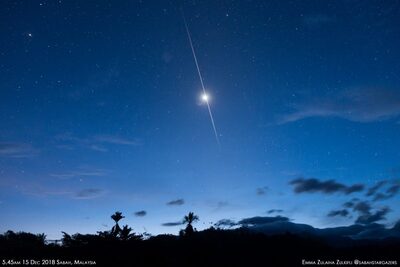 By Neil
I am hatching a plan to hopefully allow members/guests to capture Smartphone/Camera photos of the Geminid Meteor Shower.
It is the largest meteor shower of 2021, and is due on the night of 13/14th December 2021. The meteors will appear to be emanating from the constellation Gemini, hence the name, and at the peak time, Gemini will be roughly in the SW (228°) and quite high in the sky (63°) so we should get some great photos of the meteors behind a mountain backdrop. At the peak (03:36am on 14th) there will be around 150 meteors per hour. THIS IS A HUGE NUMBER!
No doubt many of you will have seen super sexy photos of meteor showers, but it is entirely feasible to capture such photos on a smartphone. Hopefully the weather will be kind to us and with a bit of instruction, anybody with a reasonably modern Android phone or iPhone should be able to capture the streaks of spacerock burning up as they hit our atmosphere at 35km/s.
You will need a Smartphone, a Tripod (more later), headtorch or similar, some kind of portable seat or mat, and plenty of warm clothing.
The Meet will include an informal class at 8pm at the Hut to help everybody set up their phones appropriately
The actual site for the photography will depend on numbers, but I recently parked on the Ogwen halfway car park to capture photos of The Perseids - I simply hopped over the wall to one of the promontories into the lake. It will be a safe and "easy access" venue, no long walks or scrambles in the dark.
Dinner will be prepared and ready for those who want it from about 7pm at the Hut, enabling people to travel "after work".
You will need your usual Hut bedding, plus something for breakfast, etc. as the plan is to grab a few hours of sleep after returning to the hut around 5am.
TRIPOD
To capture the streak of the meteor across the sky, plus sufficient detail of the mountains below, you will need to use a tripod to keep the phone very still for a 5-15 second exposure time. There are many different tripods available for Smartphones, ranging from a few pounds to downright expensive. Here is an example on Amazon . I will try a few myself in the next couple of weeks and make a recommendation.
Of course, it is all weather dependent, especially at that time of year, but looking ahead using various weather apps including Clear Outside which is available from the App Store and Google Play, free of charge, should help us in our planning.