Dave Gray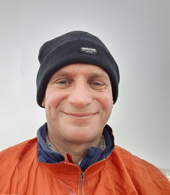 Dave was born in Wallasey in 1960. He began going hill walking with his schoolfriend Bob Gwynne and his family in 1974 , continued his interest at university and joined the GMC in 1983 following his return to the Wirral.
On the hill, Dave focuses on country, hill and mountain walking, together with wild camping and backpacking. He completed the Munro summits in 2000, the Corbetts in 2013, and the 3000' summits of England, Ireland and Wales in 1999. He has backpacked solo across England, Scotland and Wales coast to coast, and around the Tour du Mont Blanc in the Alps. An early pre-GMC trip was a backpack from Aviemore to Fort William over the 4,000' summits of Scotland.
To date his high point is Mount Whitney in the USA, and his favourite hill is Arenig Fawr.
Dave served on the Club committee for around 10 years in aggregate, as Club Secretary and then Treasurer. Over the years he has organised a good number of meets for the Club and for several years looked after the production of the annual Meets Programme. He also enjoys the GMC's social side especially out at the Hut.
His other interests include overseas travel especially to historic cities in Europe, and he is currently trying out water colour painting.
Dave worked as a tax inspector for HMRC, a tax consultant for PwC, and for that firm in learning and development. He ran his own learning and development consultancy business from 2006 till he retired in 2015.
After his retirement and up to the Covid crisis Dave worked as a volunteer for Age UK and on local conservation projects with the Wirral Rangers.