Thursday Walk: Grwych Castle
The area and details of the meet
(log in to member's area for restricted information such as mobile numbers)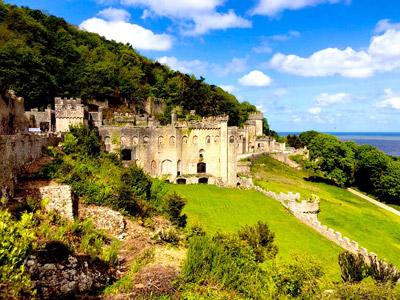 Jointly organised by Roger and Mike McEneany
There is a small (free!) car park at Coed y Gopa 933772, just past Abergele golf club. Meet there to start walking at 10.30
A circular walk across to Rhyd y Foel and down the Dulas valley returning along the coast to Abergele.
About 8 miles, easy, can be extended by going up to through the woods to the hill fort on Coed y Gopa at the end.
The astonishing fancy Grwych Castle (East face seen here) was built between 1812 and 1822 by Lloyd Hesketh Bamford-Hesketh as a memorial to his mother's ancestors, the Lloyds of Gwrych