Thursday Walk: Ruthin Castle to Denbigh Castle
The area and details of the meet
(log in to member's area for restricted information such as mobile numbers)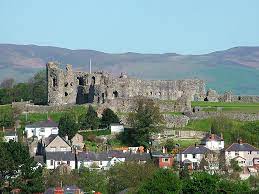 Park at the prison car park on the A494 ref 121583 to start at 9.30.
(There is an all day charge of £3.50, for those hard up there is some free parking a short distance away at 118579)
The walk is about 12.5 miles with great views back to Moels Famau and Arthur across the Vale of Clwyd; fields, track and a bit of road, not much climbing.
It is a linear walk, but Judy has offered to meet us at Denbigh Castle and run the drivers back to Ruthin to collect cars. To avoid multiple journeys between the castles, it would be sensible if as few cars as possible are used, so try to start with a full car!
Please let me know if you are coming, phone my mobile (log in to see this) or email, I will try to help with matching drivers to passengers.