Saturday Walk: Kinder Scout
The area and details of the meet
(log in to member's area for restricted information such as mobile numbers)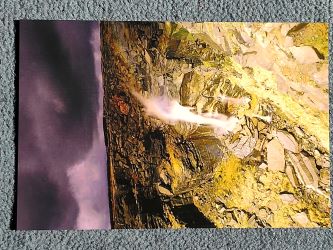 Meet 8.45.am Bowden bridge Car Park N.P. 165. Kinder Road. Hayfield, for a 9.am start. (Sorry, but the car parking will already be quite busy by that time.)
The closest Postcode I can find is the "Sportsman Inn" 165 Kinder Road SK22 2LE.
The car park (tarmacked), should be within a couple of 100 yards of the pub, further along the road on the LHS (away from Hayfield), in what was the former Bowden Bridge Quarry, known as the "Trespass Carpark"). It should be opposite the Bowden bridge which has a very minor road across it. The cost of the pay & display car park is £4.80. If it's full there should be free parking available along the RHS of the road side before the car park, from the pub onwards, but it's usually safer to park in a car park than the road. Don't park beyond the "No Access" sign as you could get a £70 ticket.
Map reference; OS Explorer OL1 The Peak District Dark Peak Area. 048 869.
You might find it of interest if you've got time, to have a look on Wikipedia of the "Mass Trespass of Kinder Scout 1932", which started out from this former quarry & led to the "right to roam" & later the start of the National Parks in this country of which the Peak District was the first one to be given National Park status.
Driving directions; M53. M56 to Junction 5 (Airport). Take A555 to the A6. Leave A6 via a left turn downhill at New Mills (A6015) till you reach the junction with A624. Cross both lanes & take the immediate left turn down Church Street. After you've passed The Royal Hotel,
(RHS) at the bottom of the short hill you should see on a house wall in front of you at a height of about 6 feet, the street name of
Bank Street. Turn right here & at the top of the short hill, bear right/forwards & this is Kinder Road. Car park (LHS) & parking area (on RHS of the road), is a little over 1 mile along this road.
Travel time 1 hour 30 min from the Wirral.
If you have a look on Bing Maps, it should give you an overview of where it is, amongst all the warren of side roads in Hayfield.
Route; An anti-lockwise circuit of Kinder Downfall for a change. South towards Mount Famine 473 metres, East to South Head 494, N.E past Brown Knowl 569 & North along the Peninne Way to Edale Rocks 600. Continue to Kinder Low 603 before reaching Kinder Downfall. Turning N.E to descend down William Clough which takes us South back to the reservoir, along White Brow to Marepiece Wood & Kinder Bank.
Distance 10 miles approx. Time 7 hours approx. No big ascents/descents.
When you let me know, you're attending can you let me have your current mobile number please?