Saturday Walk: Edale/Rushup Edge Circuit
The area and details of the meet
(log in to member's area for restricted information such as mobile numbers)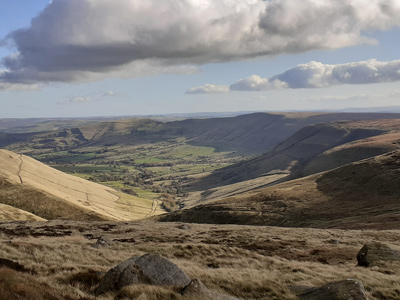 This meet was rearranged from 12 February due to weather conditions
Park at Edale Railway Station Car Park in Edale for 9.15, with the view of setting off to walk by 9.30.
The Grid Reference is SK 123 853. Postcode S33 7ZN.
Assemble outside the cafe next to the railway station, which is between the 2 carparks
When I reccied the walk the overflow carpark to the station was closed for significant maintenance work so that it might not be available to us. So, there is likely to be pressure on the other 2 carparks hence the early start. Station carpark is £4's all day payable by card only. The carpark on junction that you turn into to get to the station carpark is £6's cash only.
The walk should be 9/10 miles or so with about 1,000 feet of ascent. Weather on Kinder Scout plateau can be a bit raw, windier & colder than in the valley floor, so it'll be a good idea to take your wind proof clothing with you.
Route; North out of Edale (240 m) to Grindsbrook Booth. West along the Peninne Way to Upper Booth. Up Jacob's Ladder onto the edge of Kinder Scout, turning South over Edale Head to Brown Knowl (569 m). Continue to Rushup Edge. East over Lord's Seat (540 m) to Mam Tor (517m).
If time/daylight allows we could go along The Great Ridge a little further East to Hollins Cross (400 m) before descending back into Edale. (We can call that last little extra, when we get nearer Mam Tor on the day, Once we're on the plateau top, the dressed stone path is relatively flat & fast. It will depend on progress in relation to time/daylight.)
There's a couple of pubs in Edale itself. Both serve food hot food & a cafe too.
I didn't get a phone signal in the valley floor at Edale Railway Station, nor was it good enough to make/received text messages either.
If the weather is bad for the Saturday (26th), we could hold Sunday the 27th as a reserve day.
Can you let me know if you're planning to attend, please & of course a LFT would help too, sorry? Could you let me have your current mobile too, please?