Wirral 4 Tumps by Bike and/or Foot
The area and details of the meet
(log in to member's area for restricted information such as mobile numbers)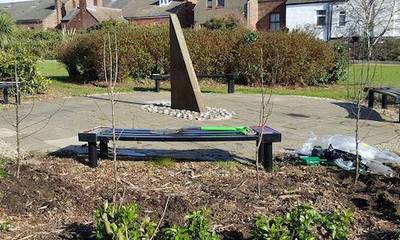 From 29th March, we will be able to exercise outdoors in groups of up to six. To celebrate this step on the road to freedom, I propose to organise a cycle trip round the four TUMPs of the Wirral. For the uninitiated, TUMPs are "Thirty Upward Metres of Prominence" - they have to have a drop of 30m or more in all directions. Whilst there are over 17,000 in the UK, there are only 4 on the Wirral: Poll Hill (Heswall), Caldy Hill, Gorse Hill (New Brighton) and Prenton Hill. The photo is of Gorse Hill.
These can be cycled in a fairly easy half-day trip of about 35 miles and 1400 feet of ascent.
It is planned to cycle the route on Friday 2nd April (Good Friday) starting at 08.30 in Heswall. The route can be done in about two and a half hours but we will take it at a fairly leisurely pace, with stops for coffee etc, in about four hours.
If the cycle route isn't challenging enough, we plan to also walk the route on Sunday 4th April (Easter Sunday). By taking a few short cuts, we can reduce the route length to about 27 miles, but it will be a long day, so plan to start at 07.30 from Prenton. It is also feasible to shorten the walking further by catching the train from West Kirby to New Brighton to do Gorse Hill and then catching a train home (depending upon where you live) which shortens the walk to a more manageable 11 miles. So we can split into two groups, with one group doing the Extreme version and one the Sensible version.
If you are interested, please drop me an email and I will confirm numbers. If there are more than six, we can split into groups with a time gap.
Hopefully, this will be the first step towards getting back into the mountains!