Saturday Walk: Cyrn y Brain/World's End
The area and details of the meet
(log in to member's area for restricted information such as mobile numbers)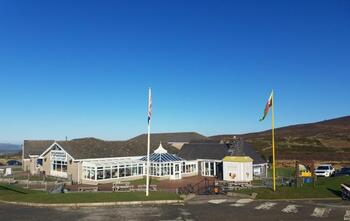 Meet at 10am, Grid reference 193482, Post code LL20 8DR at the top of the Horseshoe pass.
Parking at the side of the road opposite the Ponderosa Cafe is free. Normally you would be able to use the toilets if you buy something in the shop and hopefully is still the case during Covid restrictions.
We will descend on an ancient drovers trail to Eglwyseg, the path can sometimes be boggy after rain. Then it's a short sharp climb up to the Offa's Dyke path which is also part of the Llangollen Round route. An elevated path with excellent views taking us to World's End. From there we head across heather moorland climbing gently to Cyrn Brain, 563m, (the hill of the crows). Then a short side path takes us to see the ever diminishing remains of the Sir Watkin Tower. Do not expect too much and you will not be dissapointed but on a good day this hill commands an enormous prospect of Snowdonia, the Dee Valley, East Wales and south to Shropshire. Then it's a boggy bit followed by a fairly steep descent on a good track back to the Ponderosa.
About 10 miles with about 2200ft ascent.
This walk covers a section of the Llangollen Round long distance path (33 miles). Later in the year there is a club walk taking in the next section over Llantisilio Mountain to Corwen. Next year I will arrange two walks to cover the rest of the Round.