Saturday Walk: Long Mynd
The area and details of the meet
(log in to member's area for restricted information such as mobile numbers)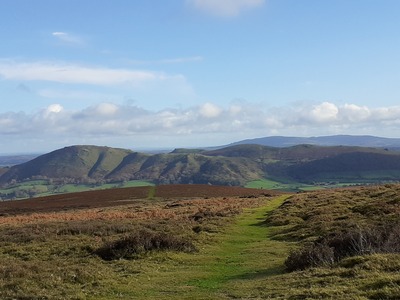 A grand day out in the Shropshire Hills. The walk begins and ends in Church Stretton, starting from the National Trust car park in Carding Mill Valley. This is a popular spot so to avoid the crowds we will meet at 8.00am.
The intended route takes us up out of the valley onto the Long Mynd - a heath and moorland plateau running roughly north-south. Travelling eastward we'll take footpaths and bridleways across moor and undulating farmland until we reach the Stiperstones Ridge - noted for its distinctive quartzite tors. We'll traverse the ridge before descending at the southern end and turning west back towards Church Stretton. The route back lies to the south of the outward leg, again crossing moorland and passing through farmland.
The total distance is around 15 miles out and back but it is possible to shorten the route by striking south to meet the planned return path back to Carding Mill Valley. Total ascent for the day is around 3,000 feet, the highest point being Stiperstones at 1,700 feet.
Parking is £5.00 for the day. I'm not sure the machines take contactless payments so it is best to have £1 coins with you. Alternatively you can pay using the PayByPhone app which can be downloaded from the Play Store or iTunes. NOTE this is a National Trust car park so if you are a member then the parking will be free :)
There are two parts to the car park in Carding Mill Valley. The lower valley car park runs from the entrance to just before the Chalet. This never closes but the upper car park which lies beyond the ford at the end of the road, is only open from 9am daily and closes at 4pm or 5pm depending on the season. I suggest you park in the lower car park.
Postcode for car park is SY6 6JG