Thursday Walk: New date for Central Clwyds
The area and details of the meet
(log in to member's area for restricted information such as mobile numbers)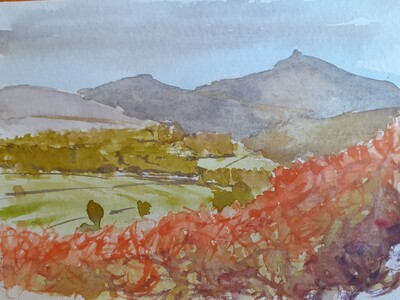 Please note the new date on Thursday rather than Saturday
This walk is a sequel to the northern Clwyd's walk that I put on Sept 5th 2020 from Moel Y Parc.
Distance 11 miles approx. (Ascent 750 metres approx.) Mobile on the day 07787 990 882, (signal is poor in the car park.)
Meet 9.15 for 9.30 start in the free carpark just below/South of Moel Arthur hill fort. (O.S. Explorer Map 265, SJ 147 658). Car parking can be a bit tight as it's a small car park, so it's best to get there early if you can. The access road from the North East is on the LHS of the Mold/Denbigh road A541 after the Cilcain turnoff on a right-hand bend, or from the West, Llandynog (B5429) which is the Aberwheeler/Llanbedr-Dyffryn-Clwyd road. (Both access roads are single track roads with passing places with lots of blind bends, so take care.) I don't think a post code will help as it is so remote with regards to houses that it is unlikely to take you to the car park.
The walk; I've tried to choose alternative routes & quiet paths to avoid the general public as much as possible as I know that many of the members will be familiar with the ridge walk, in order to freshen it up a bit to make it more interesting/different.
Route; South via an alternative route onto the Offa's Dyke Path, Moel Dywyll, summit cain 475 meters to Moel Famau 554. (The summit can be easily avoided if it's busy by talking a lower path just below the summit.) Descent to the "top car park (Bwich Penbarra) via lesser used paths in the Clwyd Forest, to avoid any "pinch points" allowing us to pass through the "top cark" without stopping there. Dropping down west partially into the valley, before turning north along a set of balcony paths which like the outward ridge walk will still give expansive views of the Vale of Clwyd into Snowdonia, all the way back to the car park. If the weather's good there'll be plenty of chances to take photos. Hope you enjoy it. The artwork of Moel Famau is by Dave Gray
Covid Details; for walks are to be found on the website. Please let me know you're attending & that you'll be Covid compliant via email.
Off the Hill Pint; Wales has now opened up for drinking outside & inside. Could you let me know if this would interest you & if you would have any preference as to where to go? (I believe there are many Real Pubs in the Mold/Flintshire area!)