Thursday Walk: Snake Pass
The area and details of the meet
(log in to member's area for restricted information such as mobile numbers)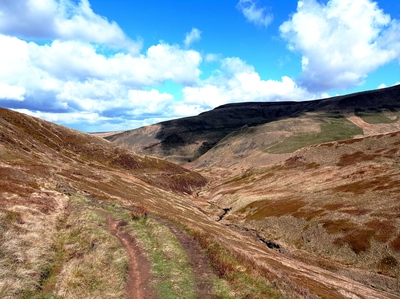 Meet at 8.00 am at the top the Snake Pass just east of Glossop where the Pennine way crosses the A57 - look out for the two bus stops, one either side of the carriageway. There is parking along the roadside.
The walk starts above Glossop at the top of the Snake Pass where the Pennine way crosses the A57. There is parking on both sides of the road here.
The route can be broken down into 2 circular sections:
The first section starts by heading north across the moorland up to the Higher Shelf Stones and the B29 crash site. It then descends west down Shelf Moor before returning to the Pennine Way via a climb up the Doctors Gate path. This is about 7 miles in length.
The second section continues along the Doctors Gate path descending southwards into the Lady Clough woods. At the southern end of the woods the route turns west following the course of the River Ashop. This is a secluded valley running below the northern escarpment of the Kinder Scout plateau. Return to the car is via the Pennine Way.
Together both sections entail around 16 miles of walking with 1,100 m of ascent. This should take around 8 hours to complete.
Depending on weather, personal preferences, etc., an alternative to this second loop is the option of following the Pennine Way south and ascending the Kinder Scout plateau to reach Kinder Downfall. This will be around 7 miles out and back. We can make a decision on the day after completing Section 1.